LoveAdmin powered apps, which include LoveSport, LoveGymnastics and LoveAdmin, include a timeline feature to allow you to share content, such as messages, pictures and videos, with your members/customers. You can think of it like a news/activity feed that you control.
The timeline also works in conjunction with the Development Programme feature in LoveAdmin. To learn how to use the Development Programme, click here.
Downloading the App
The LoveAdmin, LoveSport and LoveGymnastics apps are free to download from the Google Play and Apple stores. Members/customers can sign in using their existing LoveAdmin login details.
Enable the timeline
To enable the timeline for your members/customers to access, login to your LoveAdmin account and go to Settings > Account.
Scroll down to the Miscellaneous section and click on the 'Select' link to choose the groups you would like to enable the timeline for. Ensure you click on the purple OK button at the bottom once you have selected your groups and then Save at the top.
Note, if your members/customers are already signed in to the app, they may need to sign out and back in, for the timeline to appear.
Timeline is a tile found on the app homepage for your members.
Creating your content
To create new content to share on the timeline, go to the Settings menu > Content Schedule > Add new content.
Day/time - Select a day and time you would like your content to be sent.
Format - Select the type of content you wish to distribute.
For videos, we recommend you upload them to YouTube (as a Public or Unlisted) then copy and paste the URL in to the box provided.


For text and images, you have the option to hyperlink that content and decide whether you want to display the hyperlinked content within the timeline or load it in a browser.
Description - This is a free text field for writing content.
Publish to - Select the groups you have enabled the timeline for to receive this content.
Save - Ensure you click the Save button in the top left to finish.

A preview of how your content will display in your member's mobile apps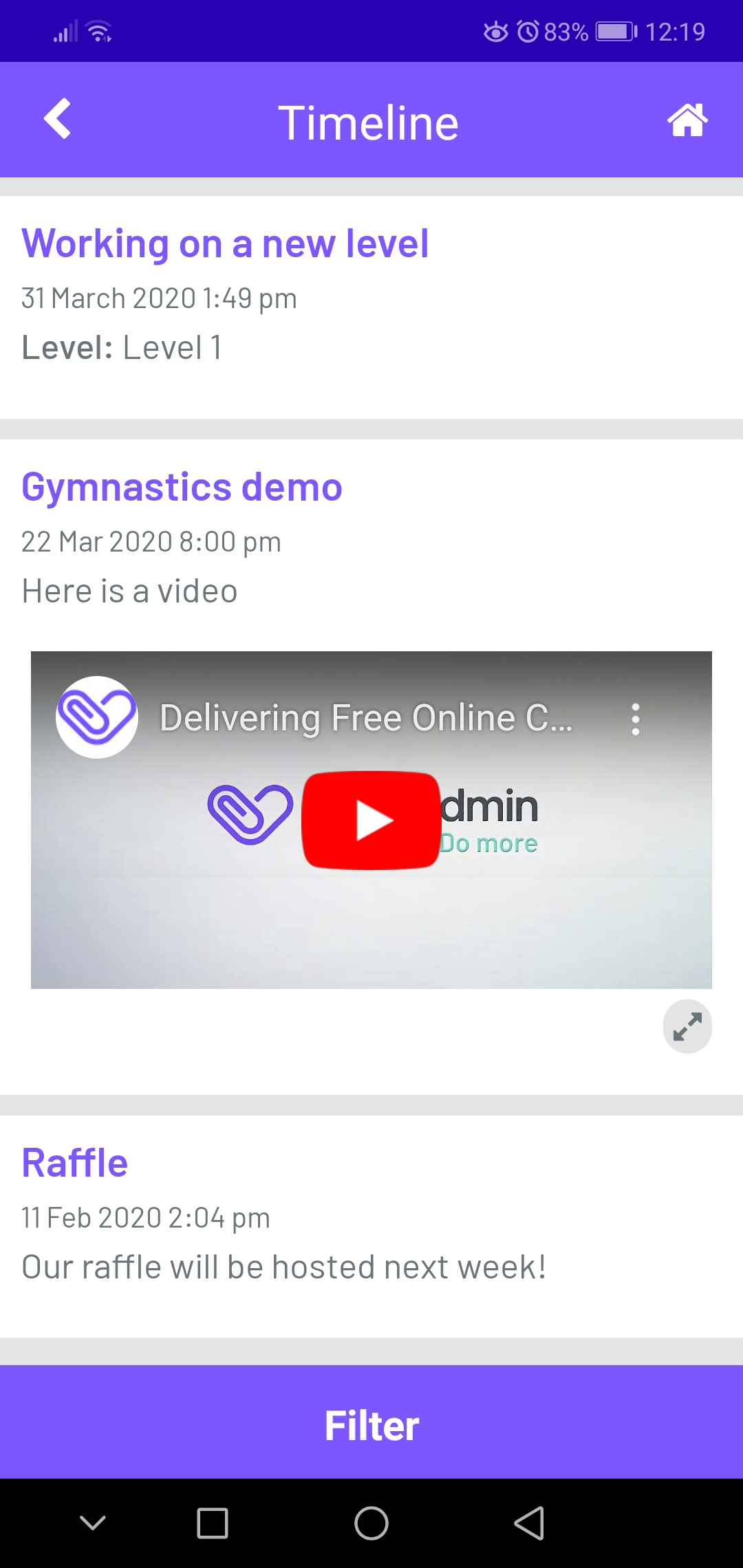 Important note: YouTube may block the playback of videos featuring copyrighted music. Please consider this before uploading videos to avoid your members getting a 'Video Unavailable' error.
Edit/Delete your content
If, at any time, you need to delete or edit your content, go to Settings > Content schedule > Review content schedule.
Here you can choose to Edit or Delete your content by clicking the relevant link in the Actions column of the required item.
If you are unable to see Content Schedule menu item, then please contact the LoveAdmin support team who can enable this feature on your account.