If you are only seeing the option to choose direct debit/bank transfer, please contact the organisation/club directly as they manage payment methods.
When you are able to make a credit or debit card payment, the PayPal payment screen will look like this:
If you are given the option to pay by card but when you are on PayPal's payment page no card options are displayed, it could be due to the following reason:
You are being asked (or you have chosen) to set up a pre-authorisation. In this case, you cannot make a one-off payment by card. You can only pre-authorise payment with a PayPal account and therefore the only options you will be given on PayPal's screen will be to log into your PayPal account or to set up a new PayPal account:
If the card used to make payment with is already linked to a PayPal account. PayPal will require you log into the PayPal account to complete payment. If you do not wish to log into the PayPal account, you will need to use a different card.
Also, please be aware that when making a card payment via PayPal for the first time, there is a box asking if you wish to create a PayPal account linked to these payment details. This box is already pre-ticked and it is possible that a card may be linked to a PayPal account inadvertently.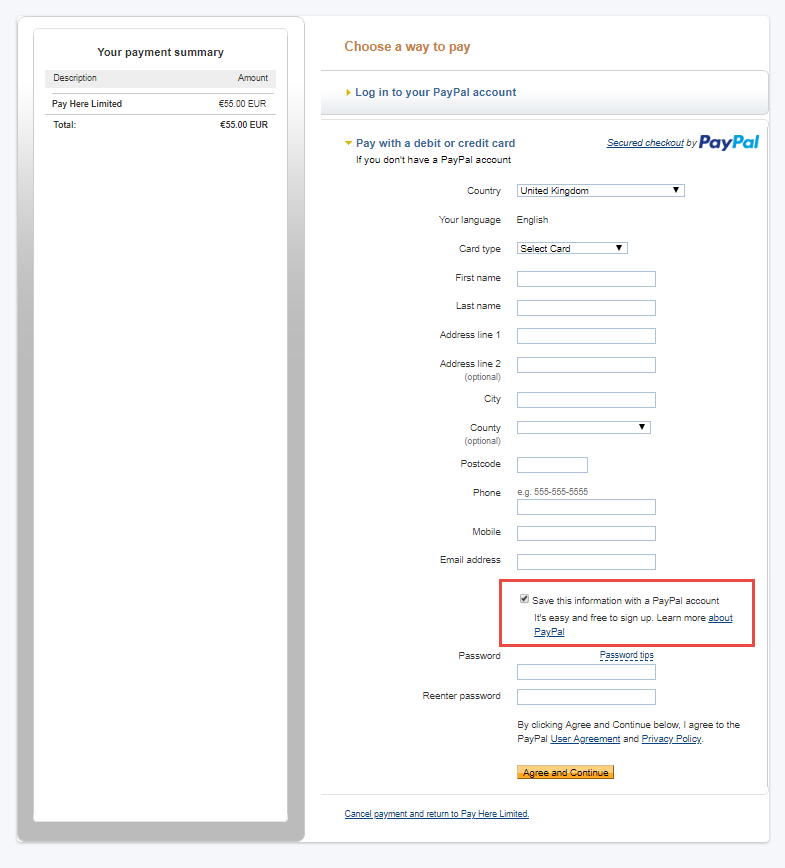 Lastly, there are some instances when the PayPal page directs you to login to a PayPal account because it recognises your email address or card details and frustratingly will not allow you to 'Continue without logging in'.
We have been advised by PayPal that this is because guest check-out is now not always offered.
In some instances clearing the cookies may work and they recommend trying the following:

Clearing cache and cookies. For help on how to do this please click here.

Changing device

Changing web browser

Going into a private browsing mode. This will be worded differently depending on your browser.

Google - 'Incognito' Window.

Firefox & Safari - 'Private' Window.

Microsoft Edge & Internet Explorer - 'InPrivate' Window.
If this does not work, then the only alternative is to log into a PayPal account to make the payment or to pay by alternative means if this has been enabled.